The facial features have dramatic lines in the lips and eyes, and the wrists have major curves that come down to form the fingers. The shoulders, arms, hands, legs and feet all have this swinging arched line.8 It is intended to represent the kindness and mercy of the Buddha, as well as the kindness that all Thais expect from each other.
The Sukhothai Buddha image has a very beautiful mass especially in the volume of the face, chest, torso, and waist. The arms are intended to mimic the bulk in the trunk of an elephant. To see the distribution of mass you must steep back far enough from to view the entire sculpture at once. As the light falls upon it, you will be able to see the volume.
The anatomy, quality of line, and massive scale mix together wonderfully. These are some of the qualities that made the Sukhothai artists different from the Sri Lankan school. These techniques were developed generation by generation until these elements came together in a new style. So much so, that no other Thai sculptural style is considered more beautiful than the Sukhothai style.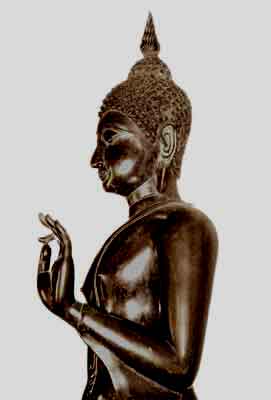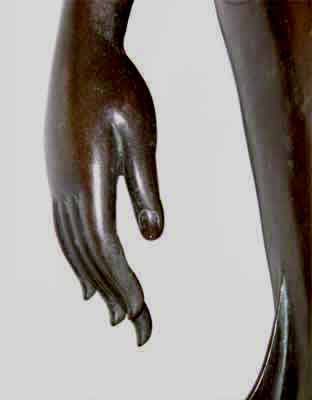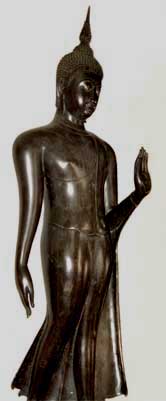 The identifying characteristics of a Sukhothai Buddha image are:
An oval, egg shaped face
Eyes which look downward
Hair knots that come in small, shell-shaped spirals
A flame shaped finial on the very top
A slender body
Beautifully curved outline
The tassel of Buddha's robe ends at the stomach
Beautifully shaped hands with fingers of equal length. The Buddha's right hand rests over the knee.
The Buddha's two legs form a continuous mass from left to right. When a walking image, it has the sense of forward motion.
---